The Experimental Motion Design section features a collection of computer-aided motion design studies, projection mapping projects, cinemagraphs, and stop-motion experiments.
"Spell" Animation
A short video I created in collaboration with Ben Scott about the magic of the hypernatural world. This was created with a combination of practical effects (dyed coffee creamer in an aquarium) and some animation, video editing and color correction in premiere and after effects. The soundtrack was recorded in good old Garageband.
Be sure to check out Benjamin Scott and his super dope photography/videography site too: itsthebell.com/
Circuit Board Animation
This is a circuit board animation test that I created using shapes and animated effects in After Effects.
Multiplane Camera in After Effects
This study was created with a combination of Photoshop and After Effects.  The original stock image that I used in this project was in 4:3 ratio.  After some careful color correction, matte painting additions and composting in Photoshop, I stretched the image to fit a 16:9 ratio.  Next, I broke the image up into foreground, middle ground, and background segments before  importing it into After Effects.  In After Effects, I created a tracking camera and arranged the  foreground, middle ground, and background segments in virtual "2.5d" space.  This effect creates a "multiplane camera" look that you would often see in Disney movies used in the 1940's, 50's and beyond.
Trapcode Mir Test
Description:
This is a test animation I made using Trapcode Mir in After Effects.
---
Projection Mapping
Description:
This is a collaborative projection mapping project I made with fellow graduate students Ben Scott and Alyssa Barrett. Using Photoshop, After Effects, digital cameras, and a digital projector, we "mapped" abstract and naturalistic video elements onto an arrangement of wooden blocks. To create the mapped imagery, Ben, Alyssa, and I used Trapcode Mir along with layers of digitally manipulated video. A combination of masking and scaling techniques were utilized in Photoshop and After Effects to place the video elements on specific sides of each block. In addition, Ben synced the soundtrack to with the video elements using Sound Keys in After Effects.
To view a preliminary test template of this project, please follow the following link:
Projection Mapping Template
---
Cinemagraph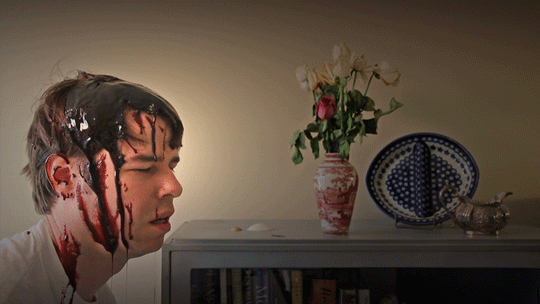 Description:
This is a cinemagraph I created using Photoshop and Premiere. The "blood" was created with Karo syrup and food coloring.
---
Stop-Motion
Description:
The Cube is a stop-motion animation experiment that utilizes a variety of materials including paper cutouts, drawings, and found objects.